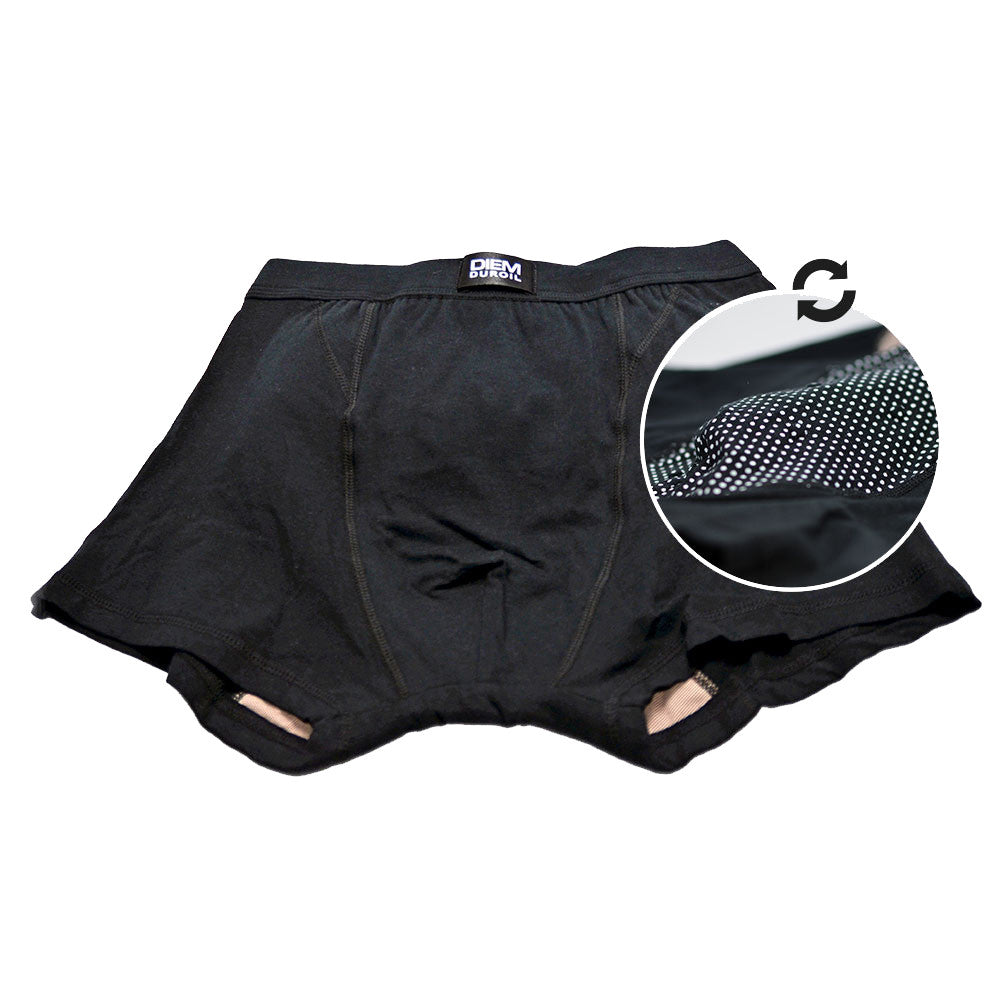 DIEM Duroil
DIEM Active Boxers - BUY 1 FREE 1
PRODUCT OVERVIEW
---
A Simple, Easy and Effective Way for a more active and energized life!
DIEM Active Boxers is the latest in Active Lifestyle Wear.
Our Active Lifestyle Wear combines traditional knowledge of acu-pressure, magnetic fields, Far Infra Red (FIR) science with modern fabric materials.
BUY 1 FREE 1 Promotion*
Why wear DIEM Active Boxers?
DIEM Active Boxers has over 20 natural magnets embedded strategically in the fabric of the boxers – it is designed to stimulate blood circulation where it matters. Get better blood circulation, reduce fatigue and enhance mobility by just wearing DIEM Active Boxers!
With 10 natural magnets in the front – DIEM Active Boxers is designed to stimulate blood circulation in the intimate and groin area. 6 natural magnets is positioned to activate best flow of blood up and down the lower back of its wearer. 4 natural magnets is positioned to stimulate the gluteus maximum area.
DIEM Active Boxer is available in the following sizes from M- XXXL.
Size M (30′-34′) | Size L (34-36′) | Size XL (36′-38′) | Size XXL (38′-40′) | Size XXXL (40′-42′)
HOW IT WORKS
The benefit of wearing, DIEM Active Boxers comes from the natural magnets that creates a consistent magnetic field around the lower back, groin, and Gluteus Maximus area where the blood flows. When blood flows through this magnetic field, the iron in the blood cells is influenced by the magnetic field causing the blood cells to spin and separate as they flow through the magnetic field. The cell separation gives each cell more surface area to carry much more oxygen and vital nutrients.
HOW ABOUT SAFETY
The World Health Organization study on magnetic fields, published in 1987, declared magnets safe. All the scientific studies to date confirm that magnetic therapy is safe. Rest assured that, DIEM Active Boxers uses high quality natural materials that have been proven to be safe for long term use.
Disclaimers
- Individual results may vary.
- These statements have not been evaluated by the Food and Drug Administration (FDA-USA) or the National Pharmaceutical Regulatory Agency (NPRA-Malaysia). These products are not intended to diagnose, treat, cure or prevent any disease.
* While stocks last.  
---
Share this Product
---
More from this collection